We are the most renowned mexican firm of certified public accountants and business consultants in the northwest of the country. We have over 30 years of experience providing our clients with accounting services, as well as taxation and administrative audit.
We were born in 2003, with the association of the accountants Antonio Humberto Vega Arellano & Victor Manuel Prieto Gastélum, from a split of a local accounting firm founded in 1976.
VEGA, PRIETO & ASOCIADOS represents NEXIA INTERNATIONAL in Mexico. We are the leading firm in independent high quality accounting, responsible for supporting consulting companies to satisfy business and financial needs with an international perspective. We are in more than a 100 countries, with 580 offices around the world.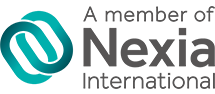 MISSION.
Our mission is to provide professional quality services with commitment and continuous communication with our clients in the areas of audit, taxation, consulting and accounting.
VISION.
To be a national firm with our own integrated values ​​and ideologies, whose prestige allows us to be recognized in Mexico and around the world.